Biography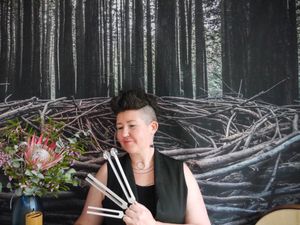 Amy is a multi-instrumentalist Spiritual Sound Practitioner, offering both private and group sessions. From a classical music background on the Cello and Double Bass, Amy began exploring scientific research of different therapeutic sound modalities and soon recognised the power of sound as a multidimensional energetic healing tool. For the past three years Amy has dedicated herself to trainings in animism, spirituality and energetic hygiene to better understand the greater potential of therapeutic sound. 
Amy is a qualified and registered Biofield Tuning Practitioner, and holds Foundations Certification in Sound Healing. She has recently completed rigorous training and initiations with Shamanic Energy Training® (Dragon lineage) as a Sacred Space Holder and Shamanic Ceremonialist. This training is an IEHA Globally Accredited Training and requires a minimum of 2 years of training, initiations and dedicated supervision and mentorship before being able to safely guide individuals and groups during their encounters with their true selves and the spirit world. The depth, tenure and immersion of this training enables the facilitator to walk the path of a technician of sacred spaces with the upmost integrity, safety and honour. Amy continues ongoing mentorship with Sharon Bolt, Shamanic Energy Training® and Temple of Mythical Magic®, and is expanding her knowledge into the area of Taoist Stone Medicine with Sarah Thomas, Upper Clarity School of Stone Medicine. 
With a deep interest in acoustics, resonance and the energetic body, Amy is developing her own unique Spiritual Sound Practice that combines the power of sound with multidimensional energy healing and sacred ceremonial space practices. Drawing upon her Ancestral Lineage and relationship with the Spirit Realms, Amy is co-creating offerings and energetic layerings with her Spirit Teams and Mentors. Amy's capacity to work with energy, hold space and work within ceremonial practices is what sets her apart. Amy draws upon her personal healing experience and interest in healing the inner child and embodied trauma, combined with 20yrs experience in the disability sector, to expand her practice and research into the area of low sensory stimulation for those living with anxiety, trauma and disabilities.
Testimonials
"Amy's Biofield tuning session was in perfect alignment with what's shown up for me in various other modalities. Amy's pitch perfection and understanding of energy is very apparent making the session flow seamlessly and clear in authenticity. Her passion within her work is inspiring and she truly has unique gifts that she offers so generously within her session. I received so much confirmation about past wounds / stuck energy that Amy was able to help free, and I have been continuously watching how this has unfolded in my life in various ways since my healing. I highly recommend going and experiencing her magic for yourself ." - Emma
" When I went to Amy for a biofield tuning, I had no idea what I was in for. I had never thought about what a biofield was, but after the profound experience in the session, and then what Amy said to me at the end ... I completely understand what she was doing with the tuning forks. It was an incredible experience going into the session, open to how lovely sound healing is, but to come out lighter and clearer ... I would recommend it, and I like that she is very experienced so I didn't need to explain much backstory and was able to trust; being fully in the moment, and receiving such nice attention and presence for the whole session." - Simon
"I've attended a one on one treatment and 2 group sessions with Amy as facilitator. Each experience being a relaxing, comfortable and unique journey through vibrational healing. Amy outlines in detail at the beginning what to expect, then proceeds to treat with presicion & care, blending her classical music training with sound healing elements is a delight!" - Jessica
"Amy has an extensive musical background, working in the arts, orchestra's and music business which she has translated into a beautiful sound healing practice. Amy's sound healings incorporates many instruments into her sessions to bring you to a bllissful state of relaxation and calmness. If you have the opportunity participate in Amy's sound healing sessions, they are amazing" - Jill
Master Lineage of Sacred Sound Elements 
Masters of Instrumental Sound 
Stephen Langley, Arturs Ezergailis, Anita Hustas 
Matt Stonehouse, Ria Soemardjo, Adam Simmons, Djulz Chambers 
Masters of Therapeutic Sound 
Sally Hutchison 
Toni Cross 
Masters of Nature, Energy and Spirit Traditions
Sharon Bolt, Joseph Callender 
Sarah E Thomas
Eloise Fielke
Qualifications 
Bachelor of Music Performance, Monash University (Aus) 
Performance on Cello & Double Bass 
Level 1 Certificate of Integral Sound Healing, Academy of Sound Healing (UK)  
Certification in multi-instrumental sound healing 
Practitioner Certificate of Biofield Tuning, Tuning Fork Therapies Australia. 
Certification in Biofield Tuning Method from Biofield Tuning in USA 
Plant Spirit Ceremonialist & Sacred Space Weaver Training, Shamanic Energy Training® 
500Hrs+ Training & Mentorship, IEHA Global Accreditation 
2018 – 2021 Various Initiations and Trainings, Shamanic Energy Training®(Aus) 
Drum Journey Training & Hyperspace Navigation 
Training in how to safely journey through spirit realms with Spirit of Medicine Drum. 
Pendulum 1 
Workshop in how to use the pendulum as a tool with appropriate boundaries and protection 
Spirit Animal 
Training in an energetic template to work with one's own Spirit Animal team 
Plant Spirit Communication 
Training in an energetic template to work with one's own Plant Spirit team
Spirit Allies & Mythical Creatures
Training in the Medicine Wheel of Transformation to work with one's own Spirit Allies and Mythical Creatures 
The Wheel of Ascension Program 
A 12mth journey of Sacred Ceremony, inspired by the Celtic Wheel of the Year. Inc teachings of The Major Arcana Tarot Journey, The Alchemy of Prayer, The Immortality Acupressure Points and The Colour Rays. 
Qigong: Chakra Warrior, Meridian Awakening, Elemental Warrior, Red Dragon Warrior Form, White Dragon Warrior Form 
Transmuting Entities with the Cosmic Dragons of the One, Upper Clarity School of Stone Medicine 
Training in ancient texts regarding spiritual origins of disease & acupuncture protocols for transmuting ghosts and entities with stones and crystals. 
Certificate IV in Disability Studies, Swinburne University 
Training to enable people with disabilities to become more independent and get involved in community and recreational activities 
Current training...  
Stones for the 8 Extraordinary Meridians, Upper Clarity School of Stone Medicine 
Training in ancient Taoist on-the-body stone treatment, accessing the portals of the Soul blueprint for soul level healing.